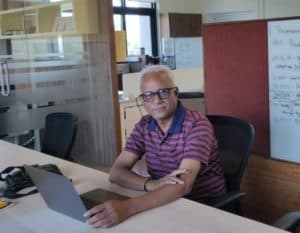 Prof. Muraleedharan V R
CO-ORDINATOR, CTaP
Professor VR Muraleedharan, a Development Economist, with a primary research interest in the field of Healthcare Economics, has been teaching at the Department of HSS, IIT Madras, since 1988. Currently, he is engaged in piloting Universal Health Coverage in various blocks of Tamil Nadu.
Associated Faculties
PROJECT ADVISOR
I have a B.Tech ( in Mechanical Engineer) from IITM. I have worked for about 35 years in Indian manufacturing industries , spanning automotive tyres, auto components, batteries, inverters & Ups systems.
Setting up green field & brown field projects and turn around operations. I have played a key role in establishing & sustaining a Continuous Improvement culture through implementation of TQM, TPM & Six Sigma initiatives. I am an ardent canvasser for sustainable manufacturing & Green Buildings.I am now associated with PARFI ( PanIIT Reach for India ) which is providing vocational training & education to thousands of under-privileged boys & girls from Rural India, and with the Group on "Technology and School Education System" in CTaP.
SENIOR PROJECT ADVISOR
Ramachandran (Rama), a 1980 Mechanical Engg Graduate from IITM, is well acknowledged Operations Head and Turnaround Leader with about 40 years of Industrial experience.
He is entrepreneurial, innovative executive manager with documented results in business development, total project management, and restoring distressed organizations to efficiency and profitability. Analytical, professional, skilled in successfully navigating businesses through periods of growth and change. Collaborative communicator continually focused on building relationships and promoting synergy across business lines and global units to drive positive change, cohesive, comprehensive business approaches to successful operation. At Industrial Energy Assessment Cell (IEAC) of IITM, he is a Sr. Project Advisor, working and guiding the team to carry out various assessment studies on energy consumption pattern, opportunities for energy conservation, improve energy efficiency, etc. He also guides the Project team in Project Management of several Research Projects.
Project Associates
Dhipankumar Kanakasabapathi
Project Associate
Dhipankumar is basically a Mechanical Engineer with a master's in Resource Recovery – Sustainable Energy Technology, from University of Borås, Sweden.
Prior to joining CTaP, he worked on optimization of process design, construction, operation & maintenance of Biomass Gasifier on power generation and various thermal energy applications along with techno-economic assessment studies for various biomass based energy generation projects in South East Asia & East African countries. At CTaP he is working on various assessment studies like energy consumption pattern in Indian Process Industries, potential for sectoral energy conservation, optimizing firm level energy efficiency and improving overall effective energy utilization by means of detailed energy audit and assessment.
Project Associate
Karthick is basically an electrical engineer and a BEE certified Energy Auditor who has experience in conducting energy audits.
He was working as an energy engineer in a textile spinning mill and later associated with a private consulting company and has conducted number of energy audits in industries, commercial buildings such as apartments, hospitals, educational institutions, etc.
Project Associate
Rajesh is a B.Tech graduate in Information Technology and has keen interest on efficiently utilizing the colossal healthcare data.
Previously he has worked on open source NSSO, Census, CMCHIS data, to yield more meaningful insights on the level of care delivered and to measure the effectiveness of the Healthcare System. At CTaP, currently he is working on the project "Pilot Universal Health Coverage in Rural Areas of Tamil Nadu", focusing on effective utilization of public primary health care services.
Project Associate
I have a PhD in Biotechnology and my research is focused on the interaction of nanoparticles with the central nervous system and behavioural changes in animal models.
Apart from this, I have a special interest in neurobiology addressing Neurodegenerative disorders focusing Learning and Memory, Molecular machinery of neurons-Terminal differentiation and Evolutionary Neuroscience in the context of Cortex development and Bipedalism in humans. I am currently working on the creation of management structure for hazardous substances with special focus on nanomaterials (NMs) and its impacts on the environment, living organisms and public health. The objective of the current research work is to bridge the basic knowledge gaps in NMs based environmental pollution such as sources, incidents, occurrence, disposal and remediation strategies.
Project Associate
Susan George is a M. Tech graduate in 'Environmental Engineering and Management' from Indian Institute of Technology (IIT) Delhi with bachelor's in civil engineering.
Her research interests are in wastewater treatment, sustainable treatment methods, emerging contaminants and mathematical modeling. She has worked as a DAAD funded research scholar at Leibniz University Hannover, Germany at the Institute of Sanitary Engineering and Waste Management and is currently engaged with CTaP on the project to support and assist MoEFCC in handling various matter related to Strategic Approach to International Chemical Management (SAICM).
Project Associate
Dayalan is an Electrical engineer, having completed Diploma in Electrical Engineering in 2012. He is well versed with CNC machining centre.
He also has certification of Central Electronics Centre (CEC) of IIT, Madras. He has over seven years of working experience in various types of electrical equipment and projects. At IEAC he is one of the field auditing personnel looking into the performance of Motors, Transformers, AC & DC Drives, Compressors, etc.
Project Associate
Alok Ranjan is a Post-Doctoral Researcher in CTaP, IIT-Madras, Chennai. Prior to this, he completed his doctorate in public health from Tata Institute of Social Sciences, Mumbai.
His areas of interest are health system, comprehensive healthcare, non-communicable diseases, and health economics. Presently at CTaP, he is involved in various studies which are related to health.
Project Associate
Education Technology and Policy - Content Developer
Project Associate
Madhuvanthi Rajkumar is a lawyer enrolled in the Bar Council of Tamil Nadu and Puducherry. She graduated from Leiden University, Netherlands with an LL.M degree in Public International Law in 2019.
She specialised in International Dispute Settlement and submitted her Master's thesis on 'Examining the efficiency and adequacy of Article 94(2) of the UN Charter in enforcing and ensuring compliance with the decisions of the ICJ'. She has a substantial experience in different facets of law and her areas of expertise and interests include Gender justice, Victimology with special reference to children and women and international arbitration. She was a part of one of the Sub-Committees formed by the Law Commission of India during its deliberations upon the Commercial Division of High Courts Bill. She was also appointed as a Support Person for child victims by the Special Court of Madurai during the criminal trial for child sexual abuse of 91 school girls in 2011. She is currently working as a Project Associate for the project on Creation of Management Structure for Hazardous Substances.
Project Associate
Education Technology and Policy - Content Developer
Project Associate
Education and Health Technology