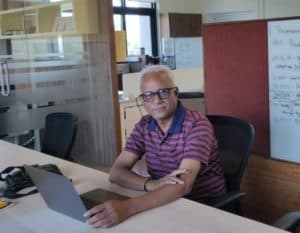 Prof. Muraleedharan V R
CO-ORDINATOR, CTaP
Professor VR Muraleedharan, a Development Economist, with a primary research interest in the field of Healthcare Economics, has been teaching at the Department of HSS, IIT Madras, since 1988. He is currently engaged in several studies on Primary Healthcare System. He is also coordinating the Operational Research Programme of the Tamil Nadu Health System Reform Programme. He serves as a member of the technical advisory committee of the Health Technology Assessment in India (HTAIn) under the department of health research of the government of India.
Associated Faculties
PROJECT ADVISOR
I have a B.Tech ( in Mechanical Engineer) from IITM. I have worked for about 35 years in Indian manufacturing industries , spanning automotive tyres, auto components, batteries, inverters & Ups systems.
Setting up green field & brown field projects and turn around operations. I have played a key role in establishing & sustaining a Continuous Improvement culture through implementation of TQM, TPM & Six Sigma initiatives. I am an ardent canvasser for sustainable manufacturing & Green Buildings.I am now associated with PARFI ( PanIIT Reach for India ) which is providing vocational training & education to thousands of under-privileged boys & girls from Rural India, and with the Group on "Technology and School Education System" in CTaP.
SENIOR PROJECT ADVISOR
Ramachandran (Rama), a 1980 Mechanical Engg Graduate from IITM, is well acknowledged Operations Head and Turnaround Leader with about 40 years of Industrial experience.
He is entrepreneurial, innovative executive manager with documented results in business development, total project management, and restoring distressed organizations to efficiency and profitability. Analytical, professional, skilled in successfully navigating businesses through periods of growth and change. Collaborative communicator continually focused on building relationships and promoting synergy across business lines and global units to drive positive change, cohesive, comprehensive business approaches to successful operation. At Industrial Energy Assessment Cell (IEAC) of IITM, he is a Sr. Project Advisor, working and guiding the team to carry out various assessment studies on energy consumption pattern, opportunities for energy conservation, improve energy efficiency, etc. He also guides the Project team in Project Management of several Research Projects.
Project Associates
Dhipankumar Kanakasabapathi
Project Associate
Dhipankumar is basically a Mechanical Engineer with a master's in Resource Recovery – Sustainable Energy Technology, from University of Borås, Sweden.
Prior to joining CTaP, he worked on optimization of process design, construction, operation & maintenance of Biomass Gasifier on power generation and various thermal energy applications along with techno-economic assessment studies for various biomass based energy generation projects in South East Asia & East African countries. At CTaP he is working on various assessment studies like energy consumption pattern in Indian Process Industries, potential for sectoral energy conservation, optimizing firm level energy efficiency and improving overall effective energy utilization by means of detailed energy audit and assessment.
Project Associate
Karthick is basically an electrical engineer and a BEE certified Energy Auditor who has experience in conducting energy audits.
He was working as an energy engineer in a textile spinning mill and later associated with a private consulting company and has conducted number of energy audits in industries, commercial buildings such as apartments, hospitals, educational institutions, etc.
Project Associate
Rajesh is a B.Tech graduate in Information Technology and has keen interest on efficiently utilizing the colossal healthcare data.
Previously he has worked on open source NSSO, Census, CMCHIS data, to yield more meaningful insights on the level of care delivered and to measure the effectiveness of the Healthcare System. At CTaP, currently he is working on the project "Pilot Universal Health Coverage in Rural Areas of Tamil Nadu", focusing on effective utilization of public primary health care services.
Project Associate
Education Technology and Policy - Content Developer
Project Associate
Education and Health Technology
Project scientist
He is a Project scientist in Operational Research Program. He is a Public Health Specialist pursued his Masters from JIPMER, Puducherry. He holds Undergraduate degree in Physiotherapy.
Interested in Non-Communicable Diseases, Health Promotion, Patient safety,Mental Health and Geriatric Health, Mixed-Method study and Qualitative Research He worked as a Researcher in ESI Medical College Hospital, Chennai.